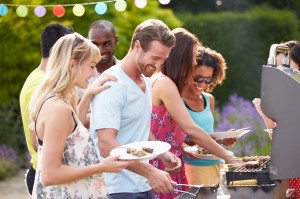 As you plan your next big house party, there are a variety of decisions you must make. As you pick up the perfect cocktail ingredients and hors d'oeuvres, you must remember to consider the liability implications of your party. If you will be serving alcohol at your party, you may be held liable. It is important that you keep in mind the "social host" laws so that you do not end up paying for more than just drinks and appetizers.
Each state varies on social host laws but essentially, social host laws make the homeowner throwing a party liable for any injuries or accidents that are caused by serving alcohol to party goers. Often, social host laws go as far as making the homeowner liable if a guest leaves the party and drives while under the influence and injures someone in a car accident. That being said, some states only make the homeowner liable for accidents that occur on the property. This would include a drunk guest falling down the stairs during the party.
Your party does not have to occur in your actual house for you to be held liable for social host laws. No matter where you serve the alcohol, as long as it is on your property, you can be held liable. For instance, when you serve alcohol in your garage or in an open field on your property. Despite popular belief, you can still be held liable if you serve alcohol in a rental property that you don't technically own.
Many states are making homeowners liable for injuries and accidents that are connected to minors consuming alcohol. For example, if you throw your child a graduation party and serve or allow alcohol consumption by minors, you will likely be held liable. Be sure to speak with your insurance provider about how your state's rules and regulations regarding social host laws affect you.
Mike Leonard Insurance Agency has been providing residents of Texas with excellent insurance products and services since 1982. Contact our Carrollton, Texas office today and allow us to fulfill all of your homeowners' insurance needs.