Auto Insurance in Southlake, TX
Why Choose The Mike Leonard Agency in Southlake, TX?
Even if you do all you can to protect your car while you are on the road, there is no guarantee that you will not run into some issues. Knowing what to do in case of an emergency on the road, coupled with you auto insurance in Southlake, TX can help to make sure that you stay safe. Keep these roadside emergency tips in mind to ensure that you can get back on the road as soon as possible.
Pull over to the side of the road. If you are still able to move your car after a roadside emergency, move over to the right side of the road. Remember to use your turn signal to alert the other drivers to what you are doing.
Put your hazard lights on. Turn on your hazard lights by pushing the big red triangle button that is on your dashboard or on your steering wheel. The blinking lights will let other drivers know that you are having problems.
Call your Southlake, TX auto insurance agent. If your car is damaged in any way, you will have to make a claim to your insurance company. The sooner that your Southlake, TX auto insurance company knows about the incident, the sooner they can get the claims process going.
When looking for the perfect auto insurance in Southlake, Texas to protect you from any peril that you may encounter on the road, contact Mike Leonard Insurance Agency.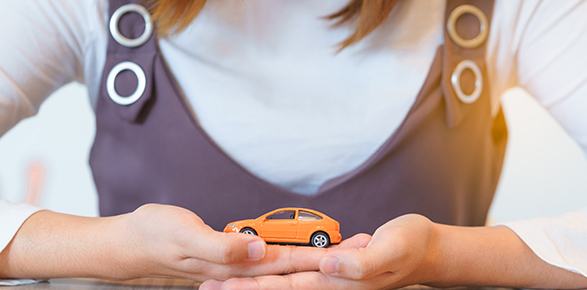 Our agent McKenzie is so friendly and works very hard to find us the best coverage for our home and cars.
Benjamin
Been dealing with Mckenzie at this firm for years now and she has consistently gone above and beyond....
Vin K
My husband Greg and I have carried our auto/home ins. policies for years through your agency. I have always appreciated the great customer service the ladies in the office have provided. However; I would like to share that Maggie is no exception and honestly her customer service skills are stellar! She always responds quickly and efficiently. She solves any issue within minutes and never seems to be too busy to assist with any requests. She is delightful on the phone and over email. I felt strongly it was important to share what an excellent employee you have in Maggie! She's a "keeper".
Kathy Fraid
I recently signed up with your agency on a new vehicle and renter's policy. I moved from Oklahoma to Texas and was referred by my sister and her husband to your agency. I just wanted to let you know that I have been working with Maggie Pena and am very pleased with the service I have received. Maggie is very knowledgeable and professional, she has a quick turnaround time to answer all of my questions. Thank you for providing excellent service for me and just to let you know you have an outstanding staff member: Maggie Pena.
Cindy Thomas
McKenzie, I want to thank you for all the help you have provided to both Jonathan and me over the past couple of years. You are a true professional and provide excellent customer service. Mike Leonard should be proud to have you on his team!
Melissa Gedney
Hello Mr. Leonard,
I have been with your agency for two years now and I must honestly say what a pleasure it has
been working with Maggie Pena. She has responded to my questions and concerns with rapid
speed and has an exemplary attitude. Working with Maggie has made purchasing insurance
much more palatable whether it has been auto or homeowners insurance. Too many times
we are quick to make complaints against an employee for poor quality service and ignore
great service allowing it to go unappreciated and unrecognized. I encourage you to pay special recognition
to Maggie Pena by placing a letter of accommodation into her personnel file and pay tribute to
Maggie in front of her peers. I believe she is a valuable asset and face for your agency to
potential and existing customers. Thank you for your recognition of Maggie Pena, a valuable employee for your agency.
Alfred Hersh
Mckenzie Motley and Mike Leonard Insurance Agency not only saved me $2,050 a year, but McKenzie did this in less than a week. I didn't have to lift a finger. Mckenzie handled all things needed to activate my new policies and terminate my old policies. She ensured I was covered at all times and dealt directly with my lender and prior insurance company. The company even allows for DocuSign so that, even in your busy life, you can make time to electronically sign all documents. This process could not have been easier and I would recommend Mike Leonard Insurance Agency to anyone looking for new coverage or the option to save money!
Jessica Robertson
We have been clients of Mike Leonard Insurance Agency for five years now, and we have been working with McKenzie Motley all that time. McKenzie has helped us purchase car insurance, renter's insurance and now home insurance, and she always does such a great job for us. She gathers all the quotes and works hard to ensure that all the policies have what we want and need and are all equivalent. It's great for me as all I have to do is talk to McKenzie and then she does all the hard work. I don't have to call each company and explain the same thing over and over again. Also, I have checked them against other independent agents, and McKenzie always gets me the best coverage for the best price, too. I feel so blessed to have them on our side helping us insure the important things in our life.
Gina
Lindsey is great – solves problems, answers tough questions, and has amazing follow up – the reason I will always be with your agency.
Paul
I have been a long time customer of Mike Leonard. I have auto home and investment properties. Lindsey Hobbs has been my primary contact for several years. She has helped me on several occasions. Most recently she re looked at my complete insurance portfolio and saved me over 3000.00 dollars. 400.00-to 500.00 per house and also on my auto. Its been a great relationship. THANK YOU
Scott Hoenig
I would like to express my sincerest thanks to one of your employees. McKenzie Motley has been a real pleasure to work with on my insurance needs. Her attitude is one of professionalism and I sense from her a real genuine care. She has been the most responsive Insurance Agents I have dealt with in over 30 years. Because of her actions, I intend to be a customer for a very long time. She is truly an asset within your organization.
Again, thank you Mckenzie.
Robert Huffman
I appreciate you helping me with my insurance. You did an excellent job helping me find me cheaper insurance. I really appreciate it!!
Minnie Elrod
I just received a call from Lindsey Hobbs telling me she was shopping my homeowners insurance and found a lower rate. It will save me almost $350 a year. I have never ever had an insurance agent call to tell me my insurance rate was decreasing. Mike Leonard Insurance offers great customer service and much added value
Stanford S.
I was shopping insurance and chose your agency not only because the price was competitive but McKenzie sold the deal. She was very helpful, answering what must have seemed like unending questions. Her follow up with telephone calls and emails gave me confidence that I was important and a valued client. She is a true asset to your agency. Thank you Mckenzie.
Linda M.
I was an insurance customer for about 4 years when they raised my premium by almost $50 per month!! McKenzie at Mike Leonard Insurance Agency worked very hard to find me a MUCH better deal for the same great coverage that I had previously. Now I am saving $300 every 6 months! Thank you so much!!
Valerie S.
I was a longtime customer of the Farmer's Insurance Group. Over the years, my home and auto premiums continued to increase to the point that it became unbearable. The Mike Leonard Insurance Agency compared my rates with a number of different companies and found me a great deal with The Hartford. As a result, I saved $800 dollars in premiums, increased my coverage, and received more convenient payment options.
Larry M.
Just wanted to let you know that Lindsey provided me with excellent follow up and customer service.
I am very happy with the deliverable and her attention to detail. Her speedy, efficient, and meticulous work made the difference whether or not I would stay or go as a customer. I am now convinced that you have a great team and I must admit, Lindsey sets the bar really high when it comes to positive results.
Ismael Saldivar
McKenzie recently handled the placing of my insurances. In addition to being friendly I found her most knowledgeable and efficient. She took special care to follow up on all her promises which is so refreshing. I have been in the insurance industry for many years and recognize McKenzie's customer care as exceptional.
Merv J
McKenzie was incredibly efficient and friendly. She put together a package that saved us several hundreds of dollars between our car and home insurance. We were under tight time constraints as we were leaving the country and our old policy was expiring. Yet, she was able to pull the transition off without a hitch. I will be looking to her to help us with some of our rental property inurances within the next few weeks
Buzz Lewandowski
I have used Mike Leonard's agency for years. Not only do they provide excellent service but they are pro-active in keeping my rates low. This policy year, when they noticed my premium took a big jump, they looked for another provider on their own and offered me the new policy. I did not have to receive the bill, notice the increase in premium, then call them to complain. This has happened more than once and I always appreciate what they do for me. They also insure my home.
Beverly F.