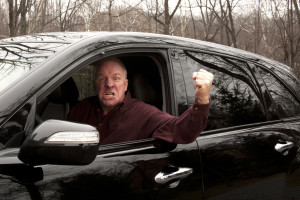 Avoiding Aggressive Driving Tendencies 
While you may think that your tendency to get angry behind the wheel is common and not a big deal, those with road rage are often the most dangerous drivers. When you are engulfed with emotions, it is impossible to drive on the open roads with a safety first mentality. We have gathered a list of safe driving tips that help you reduce your road rage and make for an overall safer roadway:
Just because another motorist is flipping you the bird for driving the appropriate speed limit does not mean that you should speed up and respond to their aggression. Toxic energy is contagious and your response only spreads the anger.
One of the most important things to remember is that you should not take someone else's driving personally. This means stepping back, and considering what situation may have led to the other motorists' need to speed. Put yourself in the other drivers' shoes so that you can take a moment to step back.
If you always leave the house with only a couple of minutes to spare before you need to be in the office, you may find yourself with more aggressive driving tendencies. Make an effort to catch up on rest, wake up earlier, and leave the house in a more efficient manner so that you do not have to speed to work when tensions are high.
Most importantly, when you are feeling aggressive tendencies coming on, just take a deep breath. This simple act can help to reduce your anger, which directly impacts the safety of the roads. Just breathe!
Serving Carrollton, North Texas, Coppell, and all of Texas, contact Mike Leonard Insurance Agency for all of your auto insurance needs. Allow us to find you the right Texas auto insurance policy that maximizes your security on the open roads.